Frades was inspired by the desire of representing the excellence of Sardinia by three brothers from Orani: Fabio (born in 1989), Roberto (born in 1991) and Valerio (born in 1997).
Frades was born as a workshop with a kitchen, aiming to rediscover and spread the social and cultural role of the workshop, showcasing food and wine excellences of the island in one of its most exclusive scenarios: Costa Smeralda.
Frades also represents the union between brothers and the value of family. It is a symbol of the sense of belonging to Sardinia and the love for its cultural, environmental, social and enogastronomic heritage that our island holds, with its infinite potential for development to be exploited by employing the resourcefulness of young people.
You can discover the Frades experience at our three venues: Frades - La Bottega, located at the Promenade du Port in Porto Cervo, the exclusive Frades - La Terrazza in Abbiadori, facing Cala di Volpe and our latest opening Frades - Milano, located in Via G-Mazzini 20, in the heart of on of the most vibrant Italian cities.
All venues share the same concept, divided into four different areas: a large counter, dedicated to cured meats and cheeses, a small shop with a wine corner and a wide selection of regional products, an open laboratory of fresh pasta and the kitchen, where the customer becomes a spectator of the preparation of our idea of Sardinian cuisine. 
We design a sensory journey through the flavors of Sardinia, so that every bite and every sip are evocative experiences capable of conveying the authenticity of our land.
Just let us know in which area of Sardinia you would like to go, we will take you a on a special enogastronomic tour.
This is Frades, this is our philosophy.
Bene Bennios!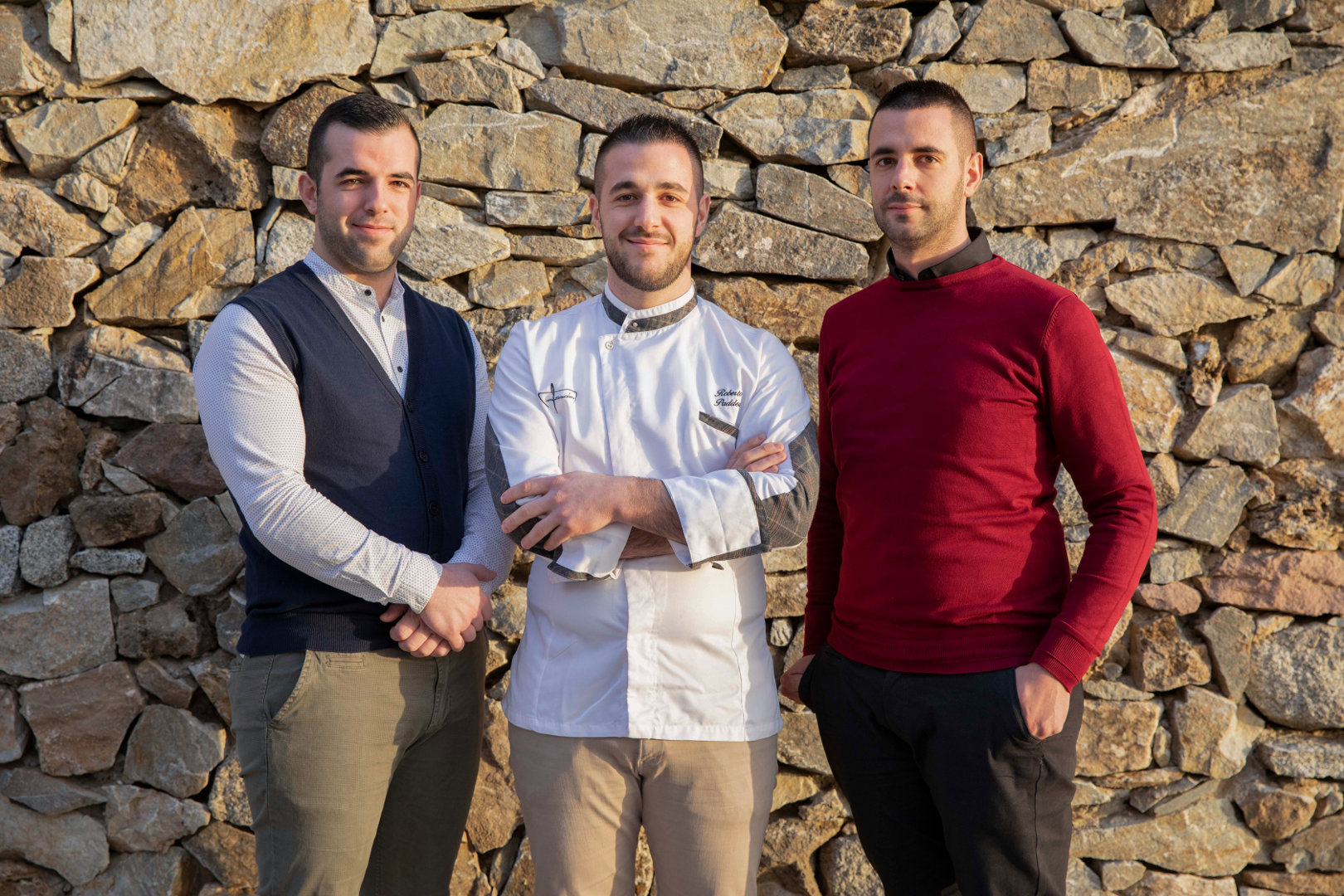 Fabio, born in 1989. He graduated with honors in Corporate Economics and Management at the University of Cagliari. He got involved in the family businesses from an early age, becoming passionate about economics, administration and business management. Thanks to his studies and past experiences, he covers the role of General Manager within the company, managing the administrative, accounting and financial aspects.
Roberto, born in 1991. As a teenager he was driven by a passion for cooking that led him to obtain a professional hotellerie diploma with full marks at Institute of Cesenatico. A series of work experiences in luxury hotels and restaurants on the Romagnola Riviera, in England, Milan, Costa Smeralda and Australia had a huge influence on his professional growth and turned out to be fundamental for the realization of the Frades enogastronomic concept. Today he is in charge of the cuisine and anything related to food, from the search of suppliers and finest ingredients to the events management.
Valerio, born in 1997. When starting the Frades project he was only seventeen years old, but he immediately became very dedicated to an important artisan role within the company, taking care of the production of the fresh pasta. Very skilled in the processing, he tirelessly produces hundreds of culurgiones and seadas every day and; just as experienced with cured meats, he prepares impeccable meat platters.